Get to know our dedicated team
Established as a privately owned, family oriented long day care child care Centre.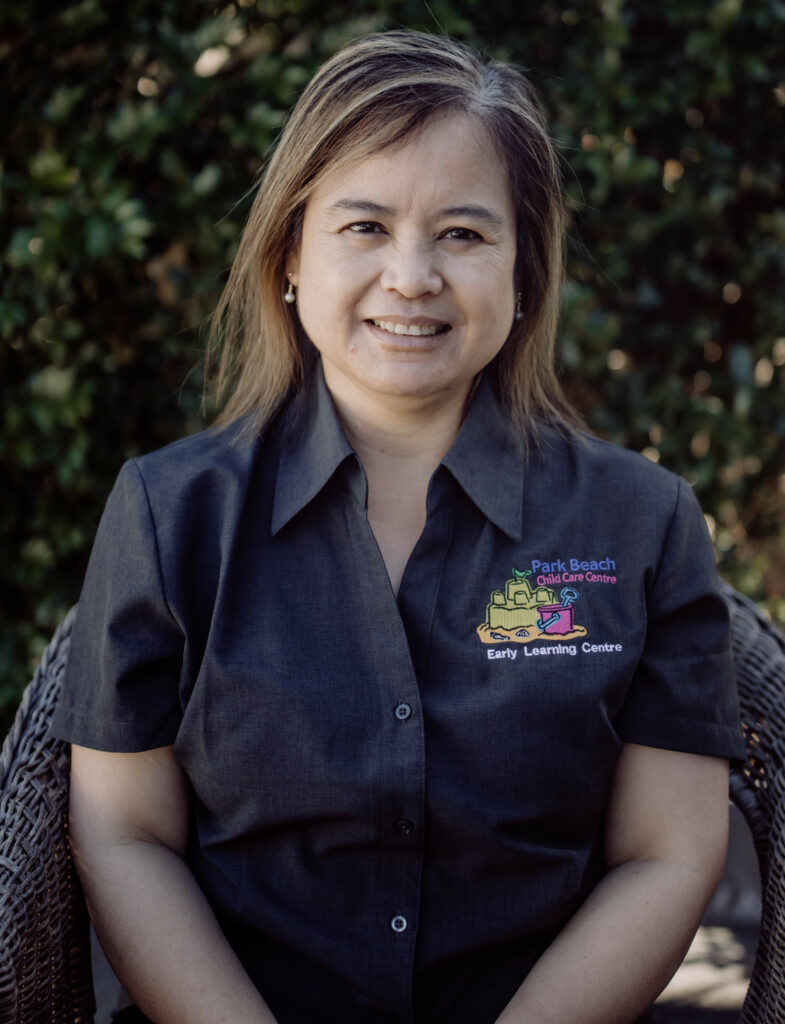 Approved provider
Director
Diploma of Teaching (Early Childhood Education)
Kia Ora! (Maori) Kumusta (Tagalog)
I was born in the Philippines and moved to New Zealand when I was 12.
I started my early childhood education journey 25 years ago. Over this time I took some time off to raise my family, gained an early childhood qualification, owned and operated my own small preschool in New Zealand and moved to Queensland Australia in 2007. In 2019, we decided to purchase Park Beach Child Care Centre.
My husband and I have four children and they play a hugely important part in my life. In my spare time, I like to read, explore beautiful picnic spots and walking trails, try out new cooking recipes (plant based cooking), travel to different places and karaoke.
I believe it is important to build strong, loving caring relationships with the children to create a sense of belonging and a safe loving environment for them to learn. I believe that good communication with parents is at core of early childhood education. This is the way we can truly meet individual's children's and families needs.
Here at Park Beach, I have the great privilege of working alongside a fabulous team in creating and maintaining successful learning environment for our youngest learners.
Every member of our team is dynamic and enthusiastic early childhood educator/teacher and we are fortunate to be a part of your childs precious learning journey.
I look forward to meeting with families and getting to know them and their children.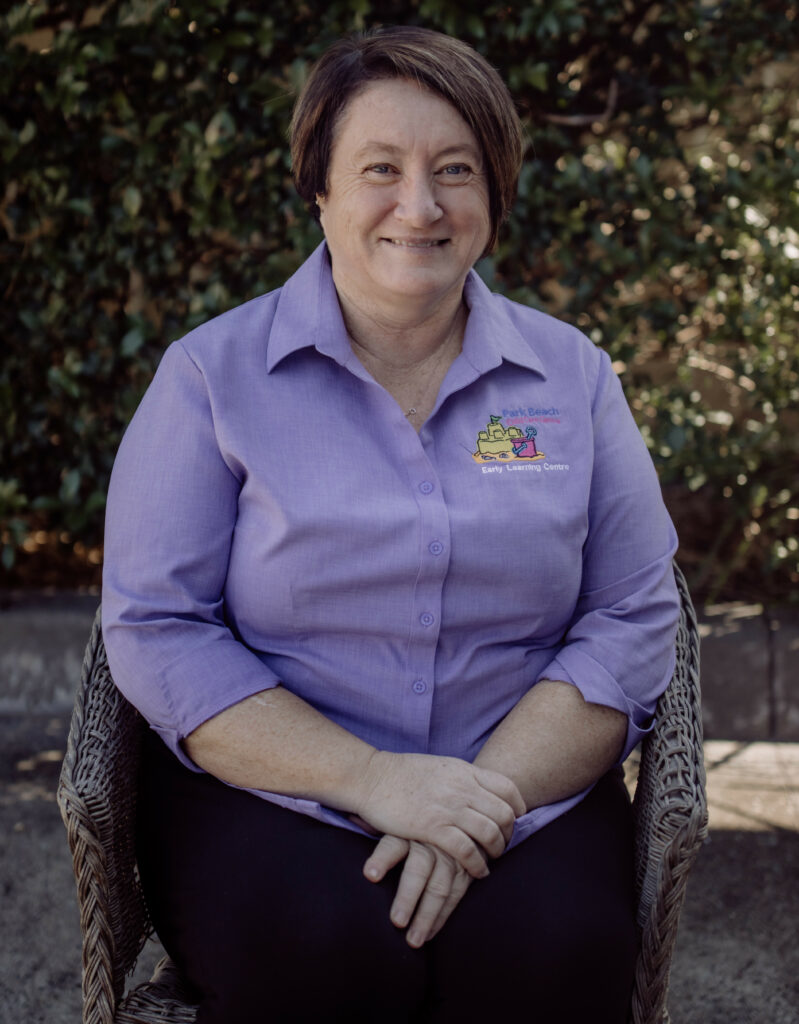 ADMINISTRATION
Assistant Director
Diploma of Children's Services (Early Childhood Education and Care)
I have worked in the Early Childhood Industry for nearly 25 years. I have been lucky to have worked in two  Centres, that both had supportive and dedicated educators. A Community Preschool in Cobar NSW and for the past 11 years here in Coffs at Park Beach Chilcare Centre.
This year I have moved into an administrative role, which I am loving. I feel like I have the best of both worlds as I am still able to spend time with children and their families. I pride myself on building happy and respectful relationships with all families and I believe sincere communication is essential. As we are a small Centre, we have been able to create a supportive home like environment for our children and their families, which I am very proud of.
I have 4 sons and 4 granddaughters, who I love spending time with, I sometimes recognise my own family values in my interactions with our children.
 I love family time, dinner with friends and travelling.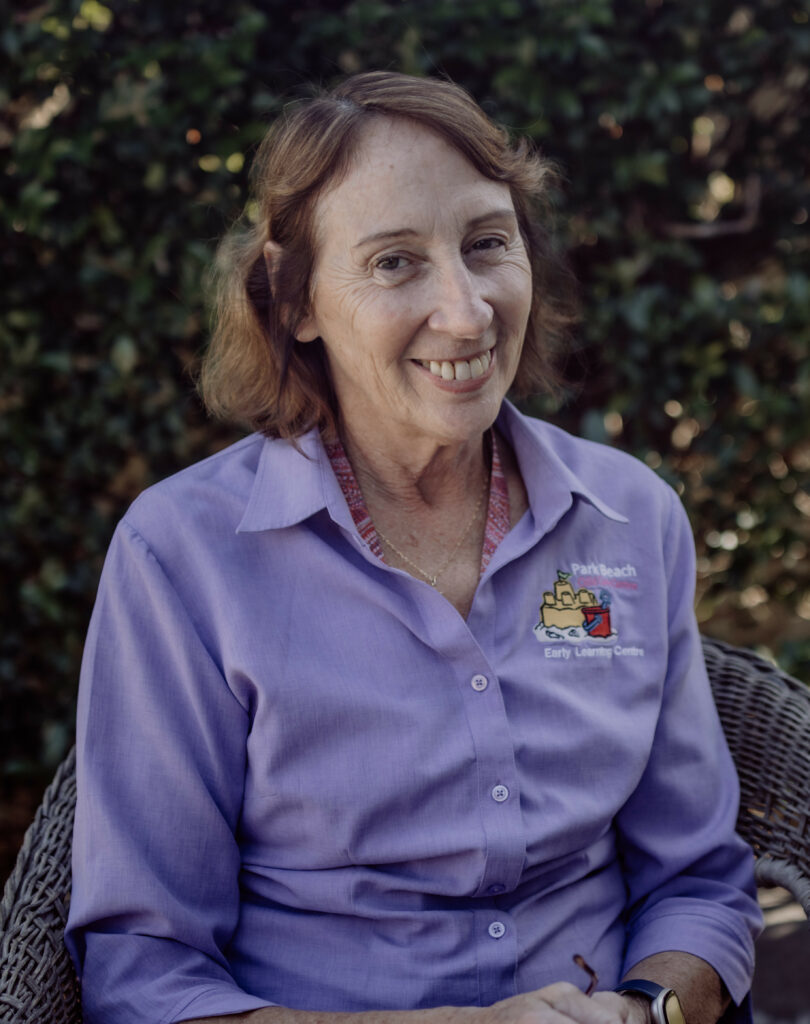 Diploma of Children's Services (Early Childhood Education and Care) 
Lead educator
EDUCATIONAL Leader
Hi everyone,
I have had the pleasure to work in this lovely small centre for the past 12\2 years and before those 12 years in another small family-owned centre.
I have two grown children with their own families, 4 grandchildren in total. I have lived in the area for 40 years, loving our natural Coffs coastal environment.
I am still learning, as I find every child unique, with something to teach me. I am sensitive to the fact that all children need connection, attention, warmth and understanding, knowing that a child's feelings of happiness create a strong basis for learning. My goal is for each individual child to feel welcome and respected, listened to and acknowledged.
With little voices still emerging in the Starfish room, we use their choices and gestures to plan engaging programs for them, along with family's input.
We understand that when in an environment where friendships and collaboration are encouraged this creates strong social skill development for children's future learning in a group setting.
I believe in building children's self-esteem through praise and encouragement, but ensuring a calmness throughout our routine is important.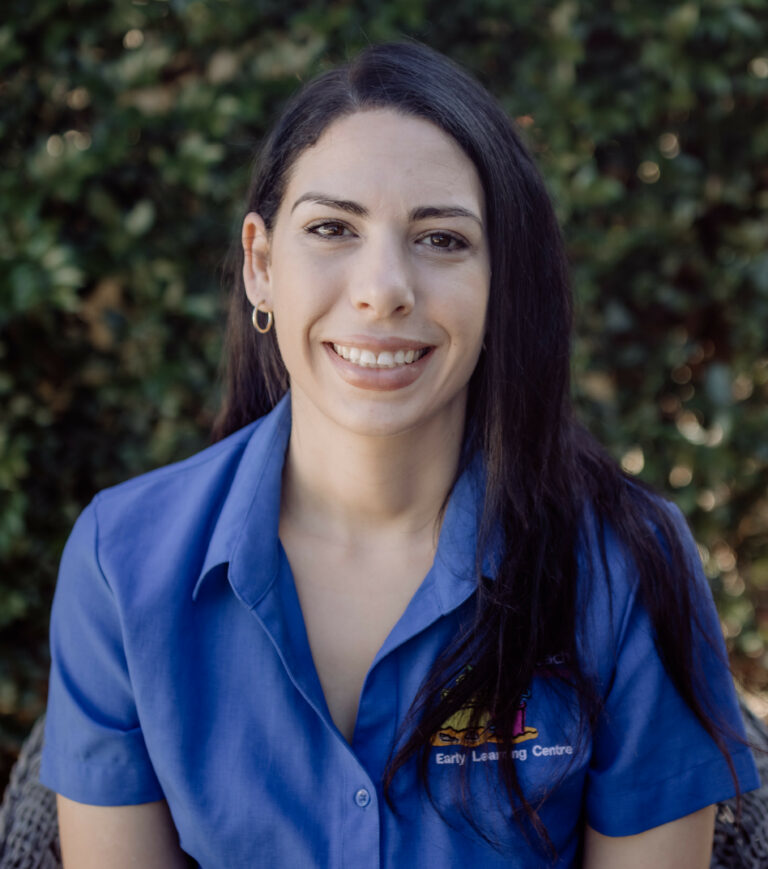 DIPLOMA OF CHILDREN'S SERVICES (EARLY CHILDHOOD EDUCATION AND CARE)
Lead educator
I believe that every child is unique and should be respected and loved for who they are.
I am passionate about making all children and their families feel welcomed, appreciated, embraced, comfortable and safe.
My aim is to scaffold children's learning through play and through meaningful learning experiences, by creating stimulating environments, documenting progress and following children's interests.
I also aim to always provide encouragement, love, understanding, support and a positive environment for the children.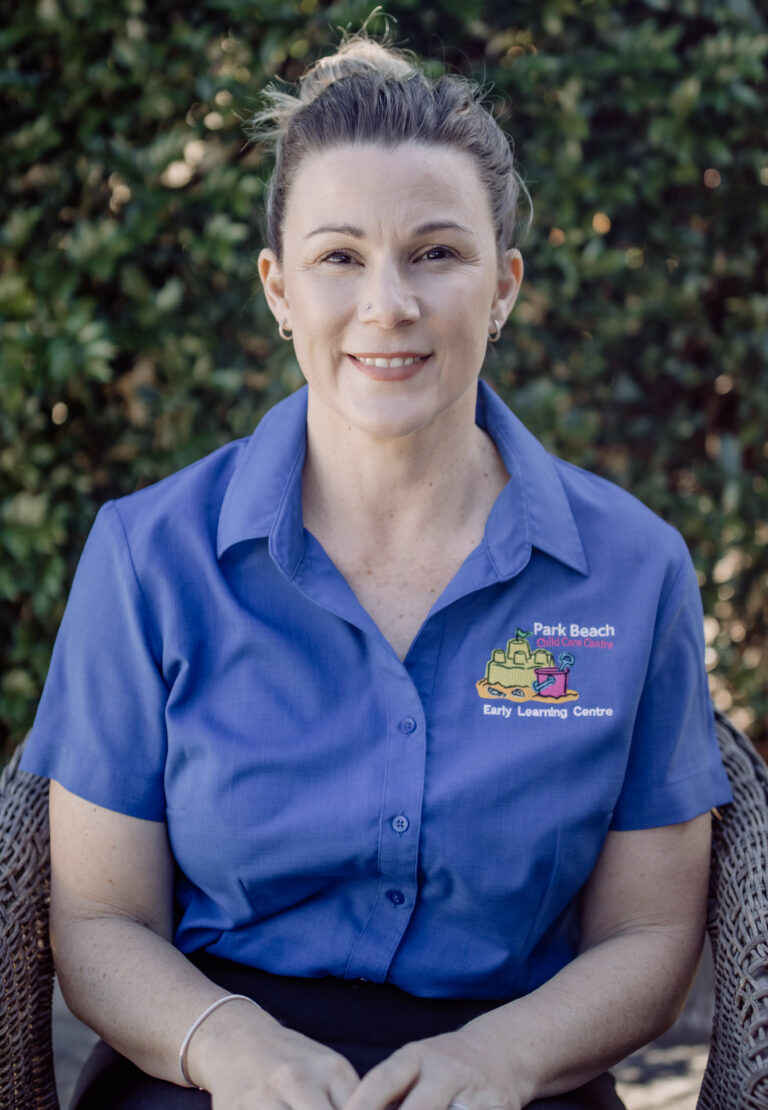 BACHELOR OF EARLY CHILDHOOD EDUCATION
Early childhood teacher
Certificate III in Early Childhood Education – CURRENTLY STUDYING DIPLOMA OF EARLY CHILDHOOD EDUCATION AND CARE 
I began my Early Childhood studies in 2019, I started by volunteering at a small Centre before joining my family here at Park Beach. I have grown to enjoy working here and getting to know so many different faces and I am now currently studying for my Diploma.
I like travelling and the outdoors. My hobbies include going to the beach to surf or swim and I also enjoy reading and making art.
I love building relationships with the children that attend our Centre. I have had many interesting conversations with many of them and the children never cease to amaze me with their knowledge; from the many dinosaurs they can name, to their current favourtie music/song they might listen to at home.
I love to interact with the children, especially in our outside environment, as they love being active and playing games like tag, stuck in the mud as well as ball games like soccer and basketball. I love seeing the impact I have on children when they frequently express their excitement towards me and ask me to play with them.
I believe children learn through play, as well as observing and copying others. As an educator I hope to create a warm welcoming safe environment for them. I want to be a positive role model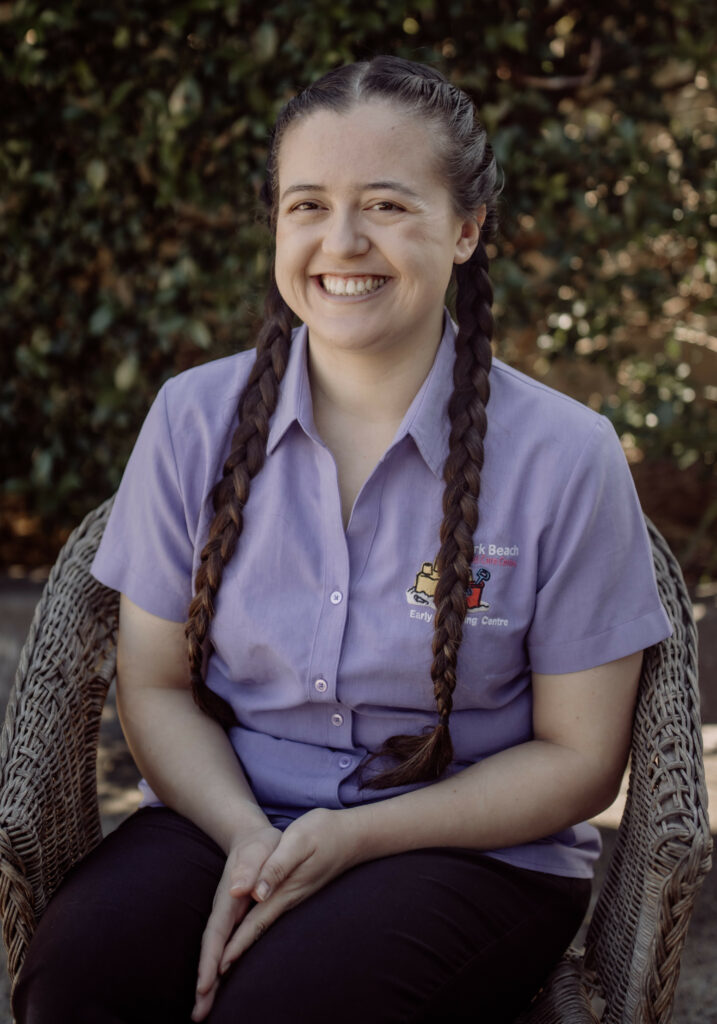 DIPLOMA OF EARLY CHILDHOOD EDUCATION AND CARE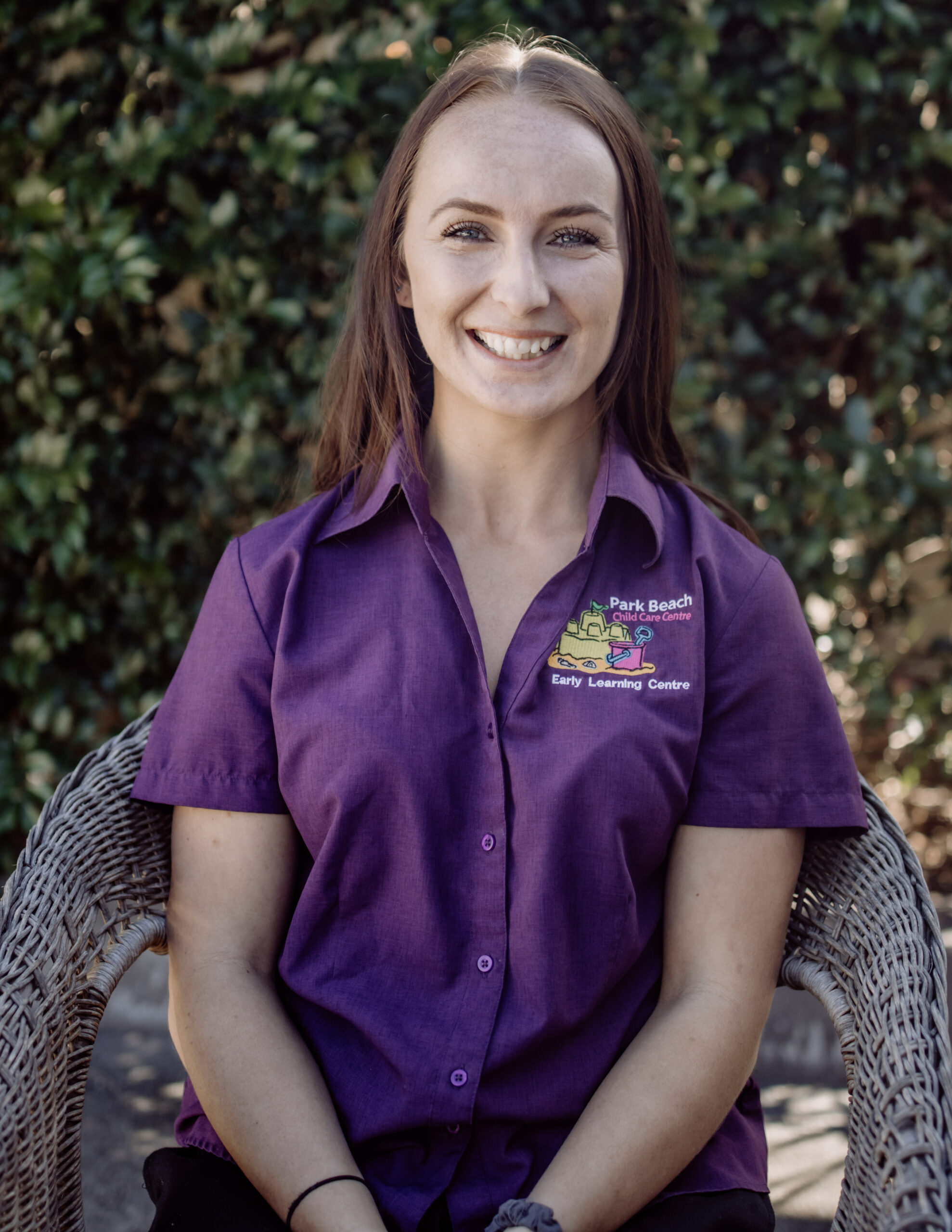 Diploma of  EARLY CHILDHOOD  EDUCATION AND CARE
I have been working in childcare for over six years. I have two children of my own with another on the way. Every day I carry this experience with me as I strive to care for and nurture each child as I would want my children cared and nurtured for.
In my spare time I enjoy the Gym, playing AFL, Physical Culture and in general just being outdoors. The outdoor environment and physical activities have strongly influenced my pedagogy, I strive to soon study Health and Nutriton in children and Teens.
I have found my time working in childcare to be an amazing and rewarding feeling to know that you are supporting children through some of the most important years of their lives. I love how children can learn so much from us in those critical first 5 years of life and how they can, in return teach us many valuable things.
My goal as a teacher is to help children reach their potential in their journey towards developmental milestones – I love seeing the efforts made by children and their moments of success.
Working at Park Beach Child Care is like being part of a big family – the relationship between staff, families and children is the most special part of my job. No two days ae ever the same and I love to learn and grow with the children and my team mates.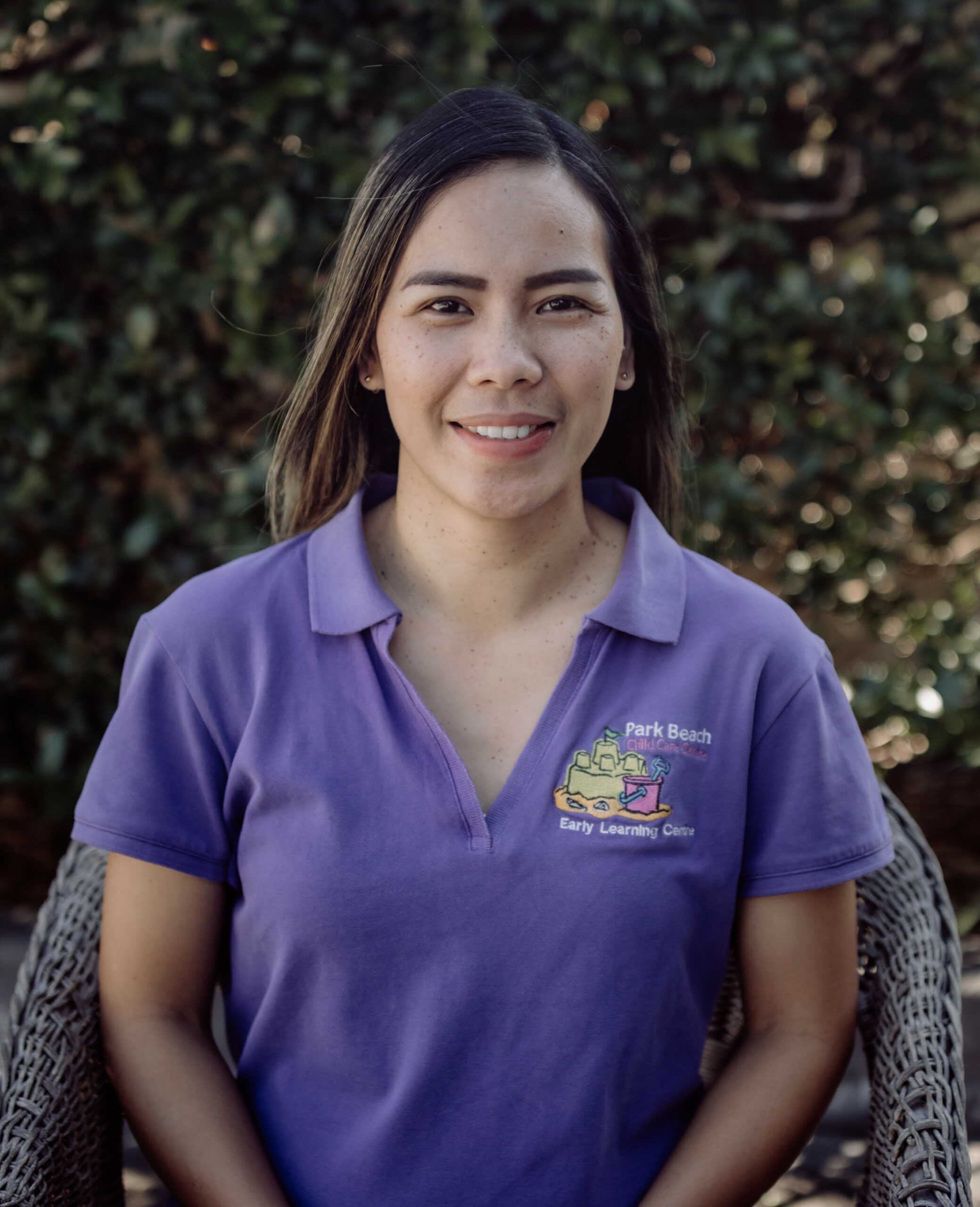 DIPLOMA OF EARLY CHILDHOOD EDUCATION AND CARE
I'm a Filipino national, and the opportunity to become an international student in Australia was a dream come true for me. In the past, I earned a Bachelor of Science in Business administration with a major in General Business management in Cebu, Philippines. After coming to Australia, I continued my education and completed a program in Project and Leadership Management in Gold Coast Queensland.
I'm also a proud mother of a precious son and the four -year journey to have him inspired me to pursue a career in Early Childhood Education. Being a mum and an educator to my child motivated me to explore a new career path in educating and nurturing young minds. I consistently priorities spending quality time with my family. We regularly attend church, and we are active members of the Filipino community here in our local area.
At present I work as support educator in the Starfish, Dolphin and Whales rooms. I have gained nearly two years of valuable experience in the early childhood education industry.
My choice to become an early childhood educator if my love for children, my passion for teaching and my belief in the significance of early childhood education. It's a career that allows  me to make  a positive impact on children's lives and support families while finding personal satisfaction in the process.
The most critical part is their security and trust so they will feel more reassured and maintain a good relationship with each child.
Diploma of  EARLY CHILDHOOD  EDUCATION AND CARE
I am a mummy to a gorgeous boy. I enjoy the great outdoors, spending time in nature, but I also love the comfort of home. I love to travel but I also love coming home.
I have a strong sense of community; I believe being part of a community can make us feel as though we are part of something greater than ourselves. It gives us opportunities to connect with people, reach for our goals and it makes us feel safe and secure.
I thrive on providing a nurturing community for the children I care for and their families, as I believe it takes a village to raise children, and a strong. community to nurture the love of teaching and learning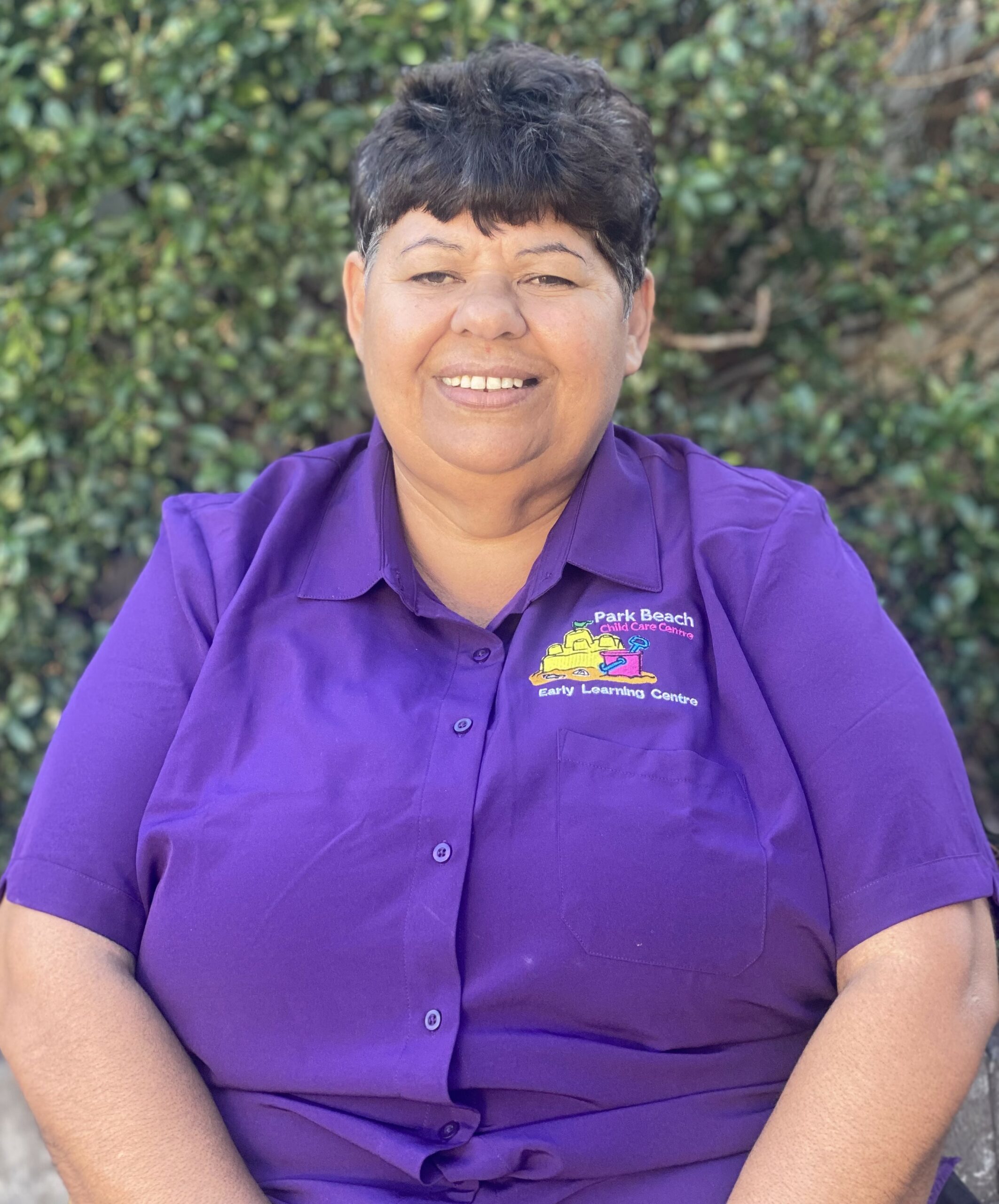 CERTIFICATE III IN EARLY CHILDHOOD EDUCATION 
support educator
Get to know Christine soon.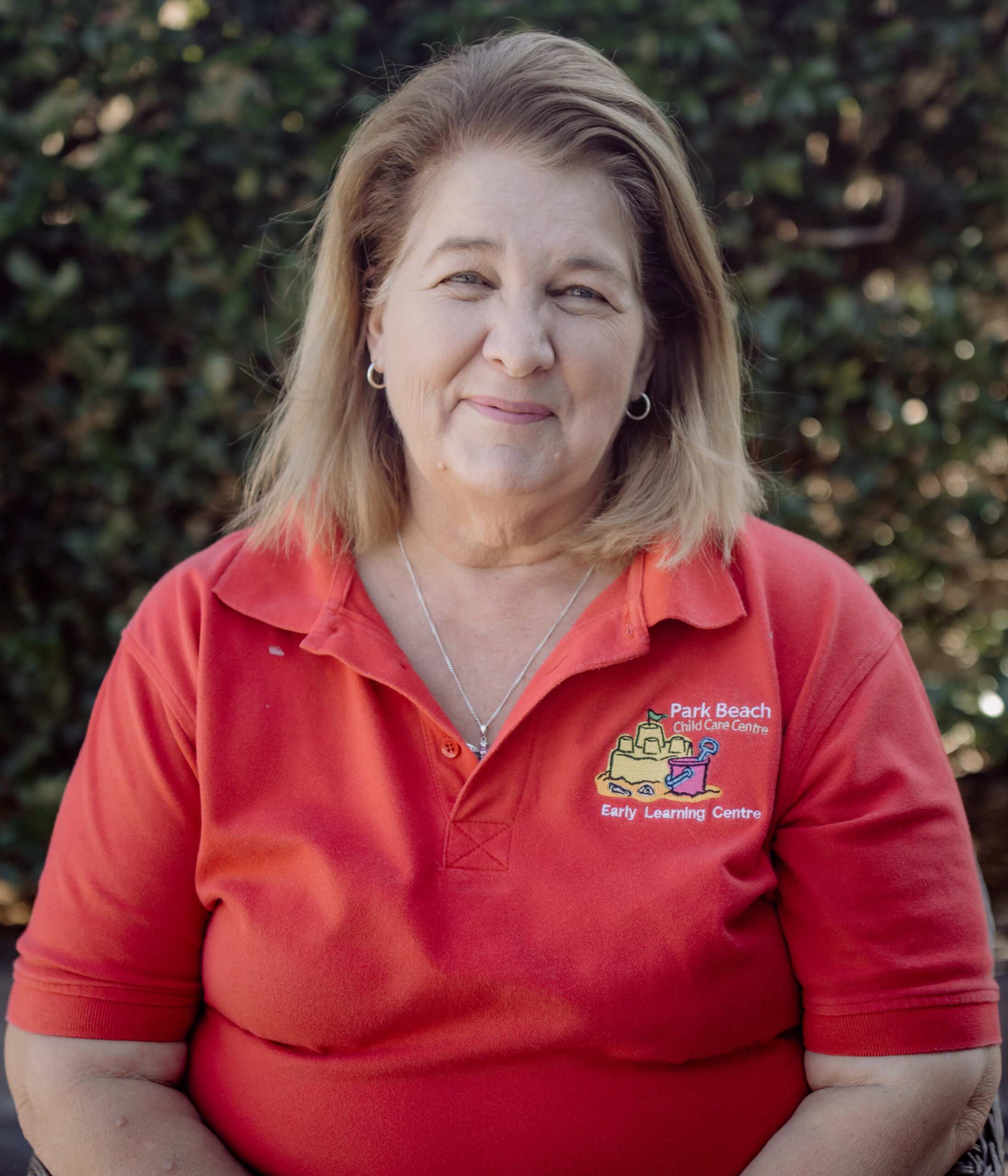 GRADUATE DIPLOMA IN EARLY CHILDHOOD EDUCATION
Early childhood teacher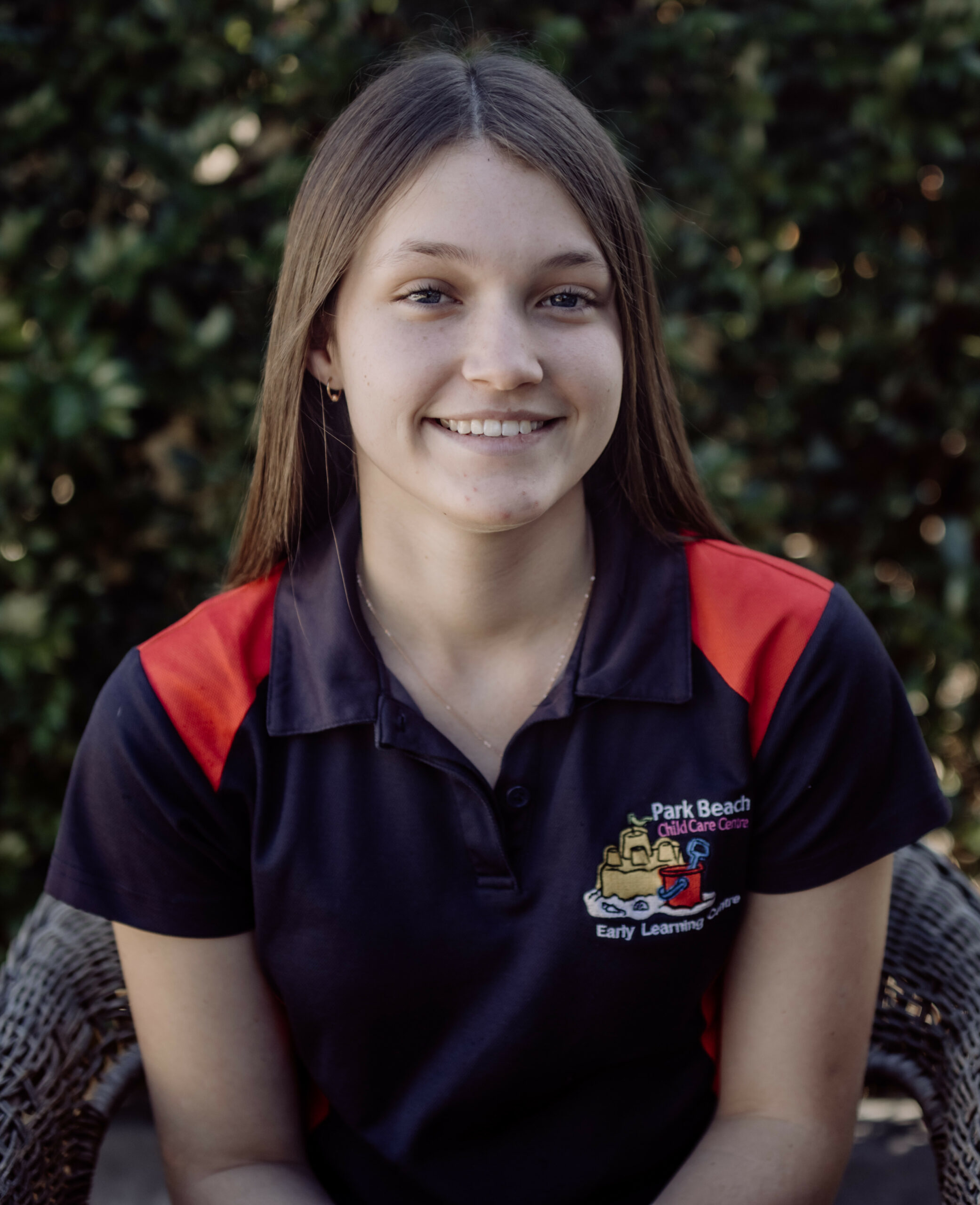 NSW School based traineeship – WORKING TOWARDS CERTIFICATE III IN EARLY CHILDHOOD EDUCATION